Irish songs, lyrics, streaming MP3s, and chords. Listen to Irish songs. Learn Celtic songs by ear!
Welcome to Marc Gunn's Irish Songs Lyrics presented by the Celtic Music Magazine and the Irish & Celtic Music Podcast.   The British Isles are full of great music.  I fell in love with Irish songs and Scottish songs by listening to bands like The Dubliners, The Corries, The Wolfe Tones, The Clancy Brothers, Ewan MacColl, and the Irish Rovers.  These artists inspired me to compile this list of Celtic and Irish songs & lyrics with streaming MP3s free, so you can listen and learn the way I do, by ear.
Many of these songs are on one of my Celtic CDs. And there are quite a few that you can get as free Celtic music downloads from my website.
If this resource helps you, share it with others.
---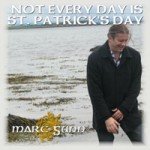 The Irish Songs & Lyrics Directory is a free service, but if you find this service useful, make a small donation to Marc Gunn. Because your kind tips will help us to make this list grow.
The latest news, lyrics and podcasts posted on the Irish Songs & Lyrics website.
Online Celtic music CD store featuring the music of the Brobdingnagian Bards.
Support the Irish Songs & Lyrics website with donations or by purchasing MP3s from our store.
Search for Irish, Scottish, and Celtic sheet music by some top Celtic artists.
Links to folks who help make this website possible.